What is it?

A parade to celebrate the variety of life on earth and demonstrate a commitment to a clean, healthy environment. The Parade is a kick-off for EarthFair 2017, the world's largest free environmental fair and Earth Day celebration.


When is it?

Sunday, April 23, 2017
Line up 9:30 am – 10:15 am
Parade begins at 10:30 am
Total marching time: about 30 minutes


Where is it?

In Balboa Park, the parade proceeds from the Natural History Museum, west to the Art Museum, south past the Organ Pavilion, ending at the Children's Area between the Puppet Theater and the Auto Museum in Pan American Plaza (parade follows the red line of this exhibitor map).


Who can participate?

Any group with at least three children under the age of 18. Past parades have included: scouts, schools, churches, museums, sports groups… anyone interested in preserving the Earth. We also invite bands, clowns and animals to participate.

Participants are invited to present their favorite earth-friendly messages, to dress up as endangered species, and in general share their commitment to a clean, healthy future.



Decide on a theme, activity, or project. Discuss with friends, teachers, coaches, etc. (see ideas and photos below).
Register for the Parade using our on-line registration system; registration begins on January 1. Go to http://sdew.earthmedia.bz/login, sign up as an associate, and fill out the on-line registration form.
On April 23, arrive at the staging area on Village Place, off Park Blvd. A representative from each participating group should check in at the registration table by 9:30 am
March in the Parade. Enjoy the Children's Area activities. Check out the exhibits, food and fun at the EarthFair.
Groups may join the parade without prior registration if they register on parade day at the registration table. Last minute groups are welcome to participate but will be placed at the end of the parade and will not be included in the parade announcements.
Staging Area

The parade will be staged on Village Place, off Park Blvd., on the east side of Balboa Park. Park in the lots off Village Place just after turning off Park Blvd. Check in at the Registration Table; volunteers will show you where to set up for the parade.

Arrival Time

Traffic around the park will start to get very busy around 9:00 am, and the parking lots will fill. A representative from each participating group must check in at the registration table by 9:00 am. Your group must be ready to march by 10:15 am.

Special Displays

If you have floats, vehicles or other special equipment that will be in the parade, please email: ef16exh@earthdayweb.org.

Parade Waiver

Each parade participant must complete a

Waiver, and give it to San Diego EarthWorks prior to the parade. You can download a copy from this link. You can email or mail us a completed Waiver, or bring it along and hand it in at the registration table at EarthFair.

Don't Forget…

Sun block, water for kids and animals, bags to carry personal belongings, sanitary aids for animals, strollers, wagons and carts for kids' projects, floats, etc.

For more information…

Email San Diego EarthWorks at: ef16exh@earthdayweb.org, or call the EarthWorks office at: 858-272-7370.
This year's Silver Anniversary San Diego Earth Day Parade theme is "Vote Cool." Use your entry to express how you can help "cool" the Earth, whether your own backyard, your favorite beach, canyon, or the nature of your home or school. We all vote with our actions; how do your votes nurturing the your community to take care of yourself and our natural world?
The following are ideas you may want to consider as a focus for your own parade team:
Endangered Animals

Ocean Life

Indigenous Traditions

Wilderness

Habitat Restoration

Trees/Reforestation

Rainforests

People

Desert Life

Wetlands

Peace

Biodiversity

"Mother Nature"

Recycle/Reduce Waste

Taking Care of Earth and Ourselves
Many groups march with banners with their message…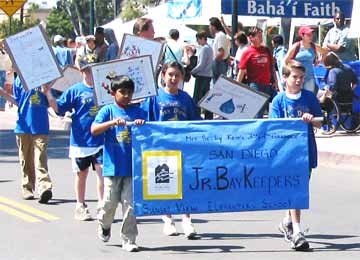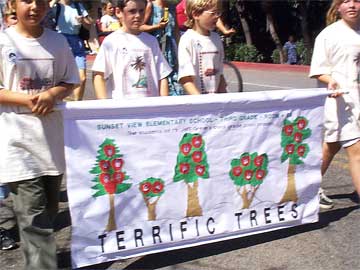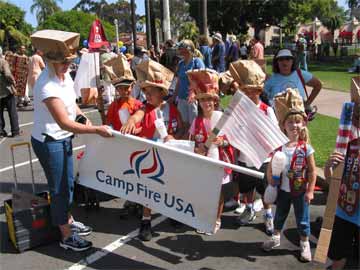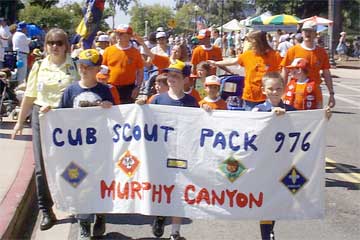 Less ambitious posters get the job done, too…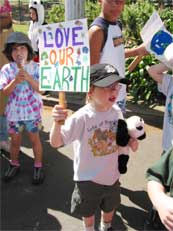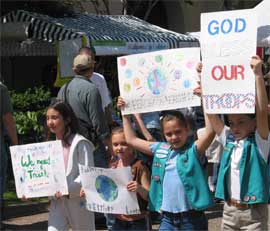 These Scouts demonstrate the ultimate in zero-pollution
transportation. The Flintstones would be proud!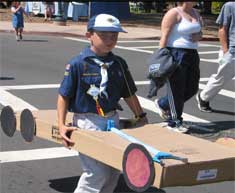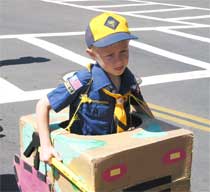 A little face paint brings a tiger to life…
and a pair of wings, a butterfly…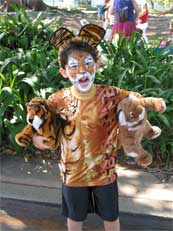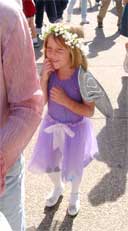 Home-made masks turn these Scouts into, er, sharks?
I guess you had to be there.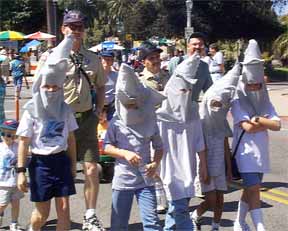 A three-member whale figure from the 1999 parade…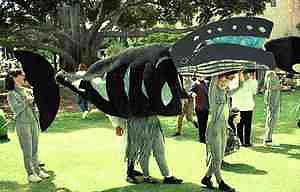 Fanciful face masks of their favorite endangered species…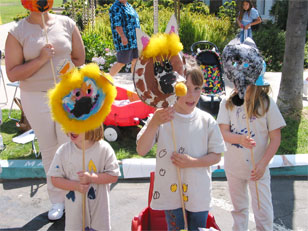 Let your creativity express itself…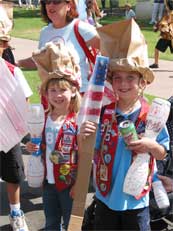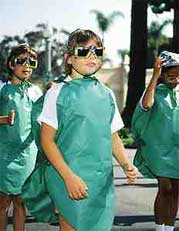 As the parade name says, all species welcome, be they exotic…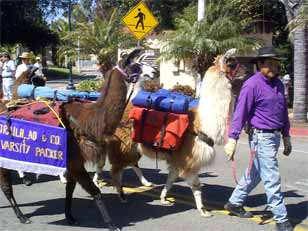 or more common…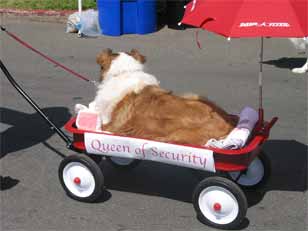 And all ages!